First Step (Pre-qualify)
We will answer any preliminary questions you might have and also ask you some basic questions regarding your situation. A 2nd appointment will need to be scheduled so we can discuss your loan options in detail. If possible, please invite relatives, friends or loved ones to the 2nd appointment. 
Second Step (Loan Options)
You can come to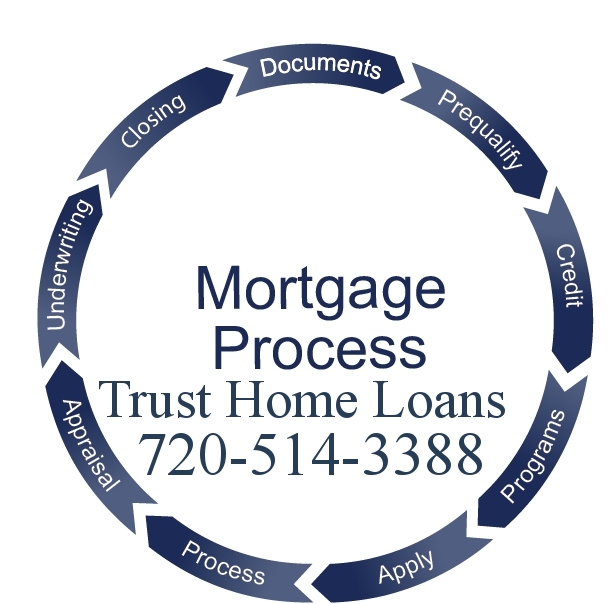 our office, we can meet at your home, or we can do a conference call. At this time we will go through your loan options, interest rates and also discuss the comparable properties we found in your neighborhood to help us establish an estimated value for your home.
Third Step (Counseling)
If you decide to move forward, the next step is to schedule an appointment with a HUD counselor. You will receive a certificate of completion after you finish the counseling. The certificate needs to be provided to us after completetion. Here is a list of all the HECM reverse mortgage counselors in Colorado.
Fourth Step (Appraisal/Processing)
A few FHA loan docs and disclosures will need to be signed and we can now order the appraisal. After the appraisal is completed, we will submit it along with your loan disclosures to the underwriter for final review. We will also schedule a closing time. We want to emphasize that the HECM reverse mortgage process is much simpler than other loan programs and is intended to be a stress-free loan process.
Fifth Step (Closing)
You will sign the final loan documents at the title company office. We can always have a notary come to your home as well if that is more convenient. You are protected with a 3 day rescission period which means you can cancel the loan within 72 hours of your closing. Assuming you are happy with the loan and 3 days have past, the title company will release all the funds to payoff your previous mortgage(assuming you have a mortgage) plus any other money that is owed to you will be released as well.